DEAR FLE STUDENT - WELCOME TO FRANCE !
Thank you for choosing us, and as the school year approaches, in order to better start your language stay in France, here is some useful information for you.
First of all, when you arrive at the airport, we suggest you buy a one-way ticket to our institution. Or you could also get a 'Navigo pass' that you can recharge. And then, do you know how to get to our school?
Our FLE centre is located in the 13th arrondissement in central Paris, 2-minute walk from the Maison Blanche station on Metro 7 (shortly Métro 14). Find us on GoogleMap at 22 rue du Tage 75013 Paris.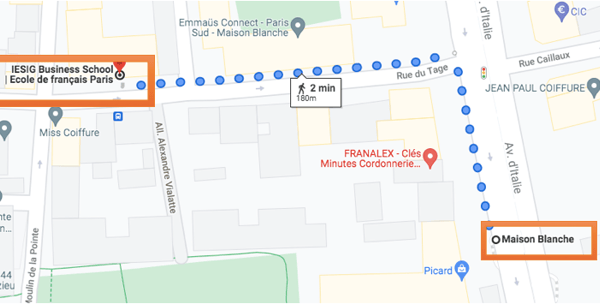 Since we are in the 13th district, there are a lot of Asian restaurants and also French ones. You can also find McDonald's, bakeries and supermarkets like carrefour express, G20, etc.
Here are some suggestions for lunch :
L'atelier du Pain (112 Av. d'Italie)
Le café des peupliers (6 Pl. de l'Abbée Georges Hénocque)
Le Bosphore (109 Av. d'Italie)
Pret à Manger (22 Av. d'Italie)
Mc Donald's (82 Av. d'Italie)
Song Heng Sandwich (56 Av. de Choisy)
Les délices du Yunnan (128 rue de Tolbiac)
K-Chimaek (139 rue de Tolbiac)
G20 (13 rue Caillaux)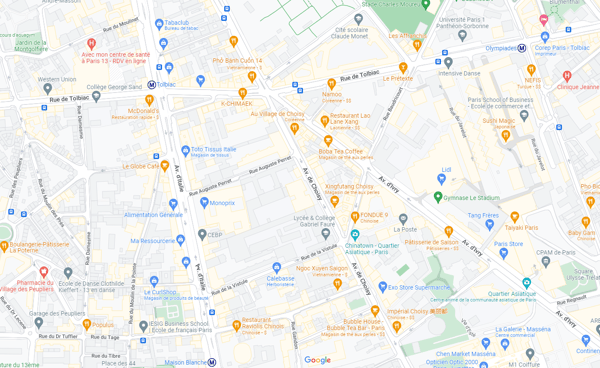 If you need to buy any book,
you can buy them either online or one of the many bookstores in Paris such as :
Libraire Jonas (14 rue de la Maison Blanche 75013 Paris)
Gibert Joseph (26 Boulevard Saint-Michel 75006 Paris)
Gibert Jeune (5 Place Saint-Michel 75006 Paris)
Le Comptoir des Lettres (52 Bd Saint Marcelle, 75005 Paris)
Don't hesitate to ask our team at the front desk if you need any help.
Wish you a nice language voyage in Paris.
We are waiting for you!